1916 Commemoration Ceremony: Killimor, March 27th, 2016
Killimor Scouts, with Ross Callanan carrying the Irish Flag,
led the parade through the town, from St. Joseph's Church to the Heritage Centre.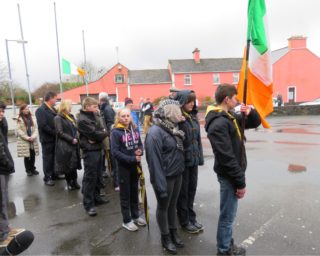 Outside the Heritage Centre, children, conducted by Nóirín Shiel,
played some slow airs on tin whistles.
Martin Mooney, chairperson of the Killimor & District Development Society,
introduced the ceremony.
Reveille and The Last Post were played by Ray McDonagh, who is a retired Army Sergeant.
The 1916 Proclamation of Independence was read by the Local County Councillor, Jimmy McClearn.
The Proclamation of Independence 1916
Fr. Kitching, P.P., Killimor was then invited to lay a wreath to commemorate all who died during the 1916 Easter period. The wreath laying was followed by a minutes silence.
Ronan Porter played a drum-roll while the flag was being raised by Scout Leader, Sinéad Dervan/Sammon.
The singing of the National Anthem, Amhrán na bhFiann, was led by Sinéad Treacy/Keane. The ceremony concluded with Paul Costello, Cloncona, playing and singing his own composition Commemorating Centenary
Commemorating Centenary
O'er the gentle swell of the Liffey
Clasped in green white and gold
A nation's future was destined to unfold
Hopes and dreams echoed by hearts thud
Where Pearse proclaimed as he stood
Chorus
Hold your head high
As our nation thrives
On the land of the emerald free
As our heart beats cry with glee
For the country that we love!
Since a century has passed
Our country is in peace at last
Birth to an independent free state
Nurturing love, peace, faith and race,
Because of those who proclaimed that day.
Chorus